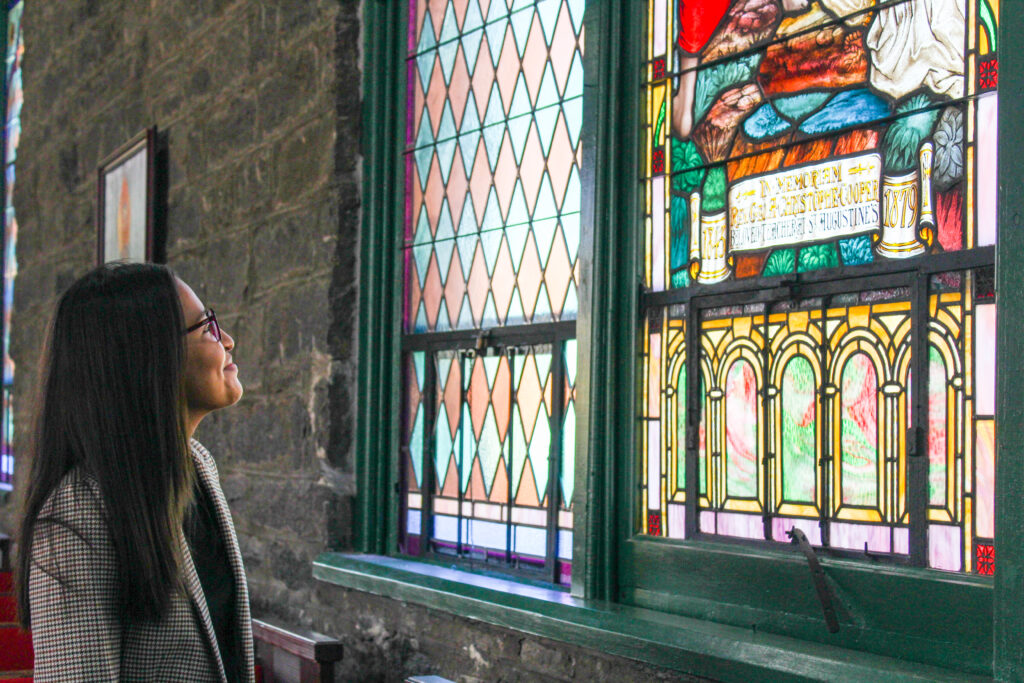 SAINT AUGUSTINE'S CHAPEL WORSHIP COMMUNITY
In the spirit of the church tradition of painting our doors red, Saint Augustine's Chapel strives to be a welcoming and safe place for our students and the community. Services of Holy Eucharist are held on Sundays during the academic year, where we hear the Word of God and partake of the sacraments. We invite you to visit our chapel during worship times and open yourself to the possibilities of a spiritual journey anchored in a relationship with Jesus Christ and nourished by Christian community. We have a relaxed service infused with the participation of students with a diversity of talents ranging from our Divine Dance Worship to our University Choir.
 As an Episcopal Chapel, we recognize that students bring the gifts of a diversity of beliefs, experiences and talents, and we treasure this diversity. We strive to be an inclusive and welcoming community, embracing a diversity of cultures and united through the unconditional love of Jesus Christ. The university chapel program and religious life at Saint Augustine's University is a place to study, pray, and worship together, deepening our faith so that we may be transforming agents sent forth to serve God in the world.
Chapel Open Hours
Tuesday - Thursday 10 a.m. - 1 p.m.
"In the earlier days of the church it was understood that a soldier could not pursue an enemy that had entered through the red doors of a church. The red doors were a symbol of refuge and sanctuary for all people who entered. To all concerned the red on the doors signified the blood of Christ that had been shed so that all who came to him could be saved. Anyone who passed through those doors was safe as long as they stayed behind them. Over time, Christian people began to see the red doors of the church as symbolizing not only physical refuge and safety, but spiritual refuge as well. 
The blood of Jesus, and of the Church's martyrs, that the red doors of the church symbolized, would protect you from evil, both physical and spiritual. The red doors spoke to the world of holy ground that existed inside those doors, space that had been purged and made clean by God's Holy Spirit. Today people choose to paint their church doors red for many of the same reasons that churches did centuries ago."
Just Faith Community Chapel Series
Themes: Racial Justice, Economic Justice, Gender Justice, LGBTQ+ Justice and Environmental Justice
November 9, 2022
Eric Lewis Williams, Ph.D.
Dr. Williams has taught religion, history and African American Studies at several institutions including: Western Theological Seminary; Ashland Theological Seminary (Detroit); Iowa State University; Shaw University; Virginia Union University; Boston College; and Harvard University. Williams currently serves as the Curator of Religion for the Smithsonian National Museum of African American History & Culture in Washington, D.C.
Dr. Williams' current research examines the meaning of religion within African American history and culture, and the role and influences of African religions within the Atlantic world. Williams is a co-editor of the T&T Clark Handbook of African American Theology and is currently completing a manuscript which explores theological significations in African American Pentecostal thought.
Dr. Williams' research and studies have taken him to the continents of Africa, South America, Europe, extensively throughout the continental United States, Mexico, and to several islands of the Caribbean. Williams considers himself a transatlantic commuter, a collector of words, and an emergent jazz-man in the world of ideas.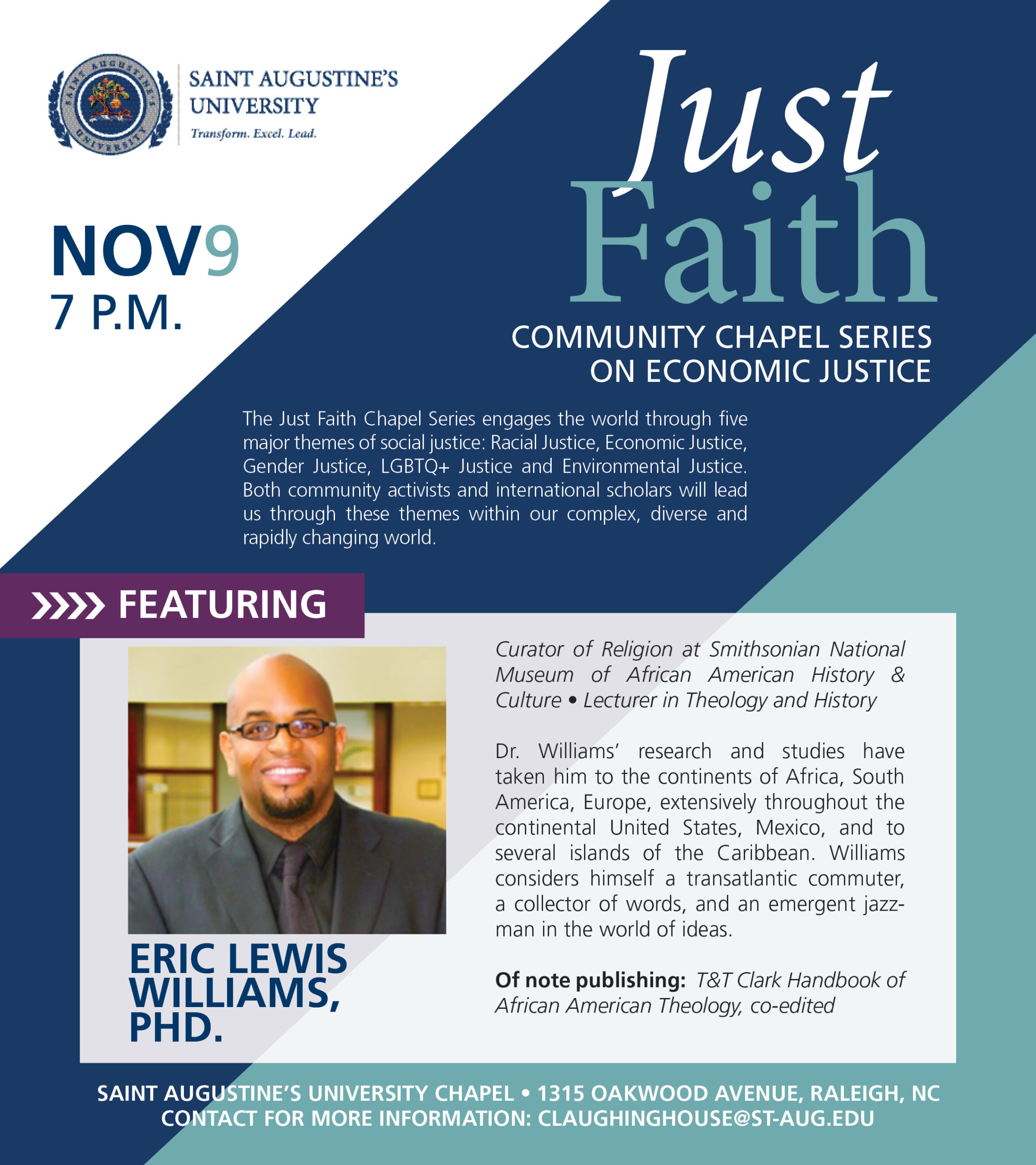 January 26, 2023
Obery Hendricks, Jr., Ph.D.
Dr. Hendricks is noted as a prophetic intellectual and social justice activist appearing on CNN, MSNBC, CBS, Fox News, Fox Business News, PBS, BBC, NHK Japan TV, al Jazeera, and more.
Most recent publishing: Christians Against Christianity: How Right-Wing Evangelicals are Destroying Our Nation and Our Faith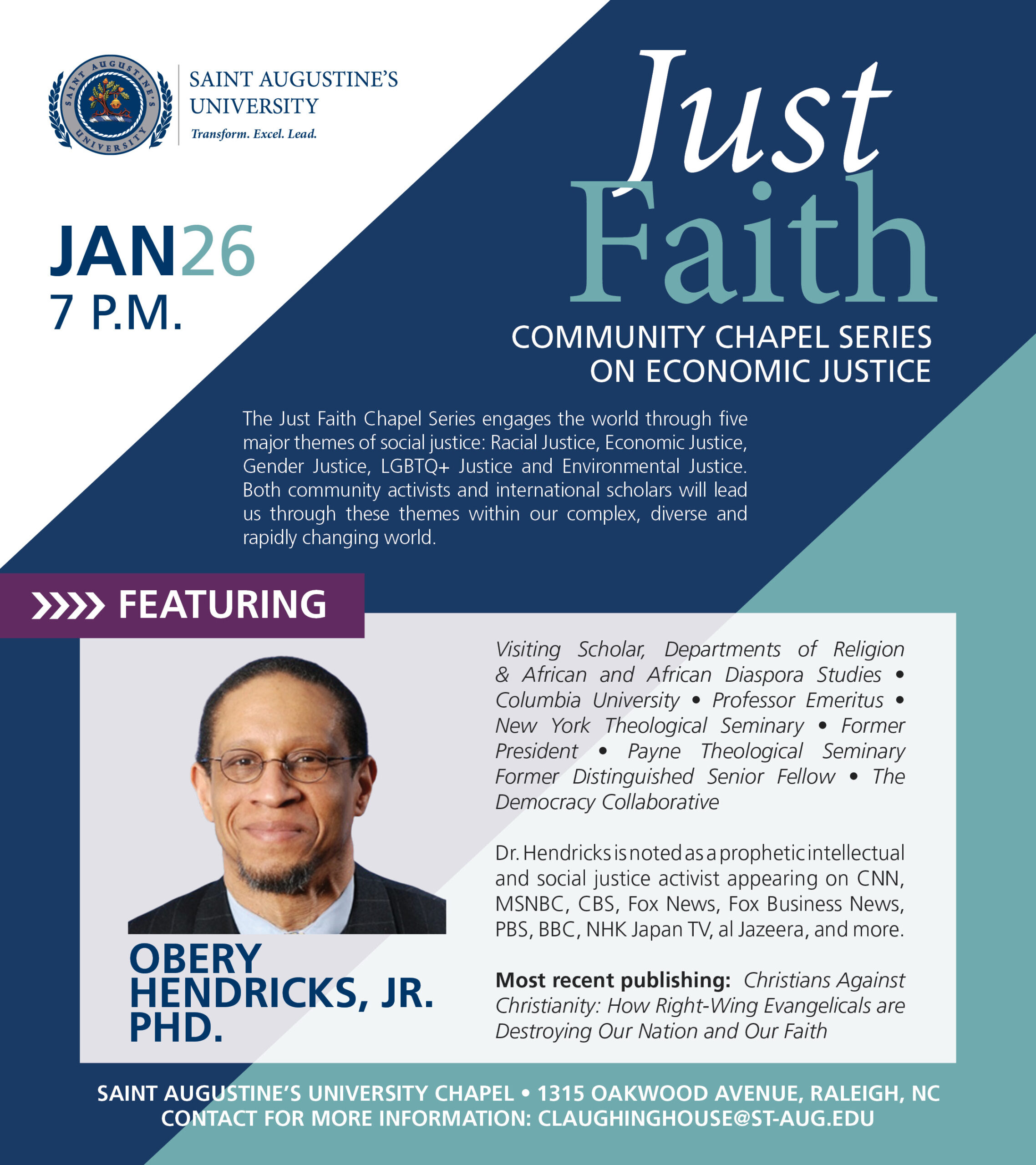 March 28, 2023
Stacey Floyd-Thomas, Ph.D.
Dr. Floyd-Thomas is the CEO of the Nationally-acclaimed Black Religious Scholars Group, Inc. and former Executive Director of the Society of Christian Ethics and Co-founder of the Society of the Study of Race, Ethnicity, and Religion.
Most recent publishing: Walking Through the Valley and Religion, Race, and COVID-19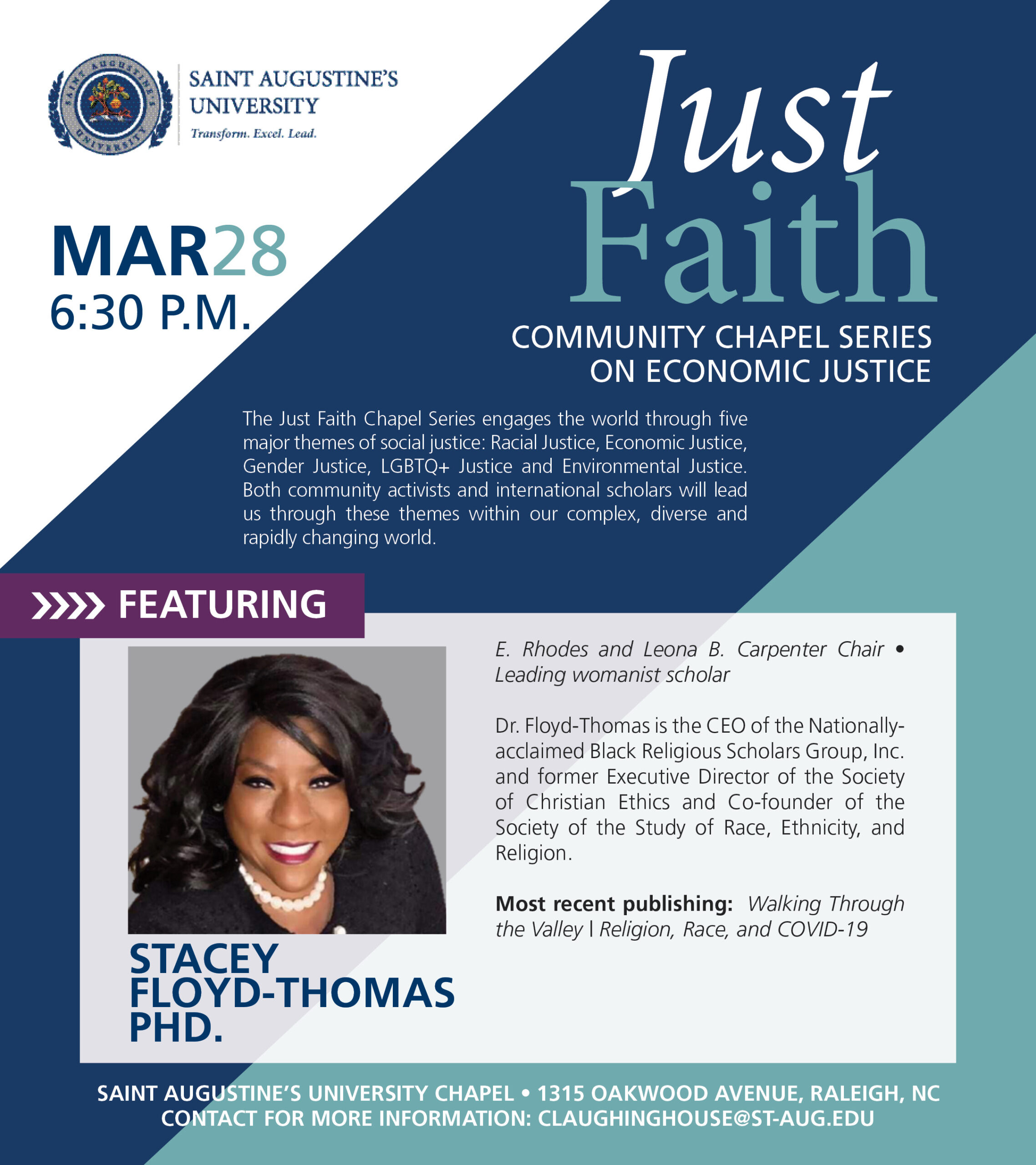 April 2 @ 3:00 pm
-
4:30 pm
April 19 @ 11:00 am
-
1:00 pm
MESSAGE FROM THE DEACON
Deacon Sallie Simpson will continue to be available to the Saint Augustine's University "family" during our physical separation. Anyone can contact her via email at scsimpson@st-aug.edu. She will check that mailbox twice a day during this time and respond by phone or email as appropriate.
Scholarship Opportunities
Absalom Jones Institutional Tuition Grant
Saint Augustine's University has set aside $259,405.00 each semester to grant scholarships to Episcopal and Anglican students. Applicants are required to receive written confirmation of baptism from their parish rector or bishop. The institutional scholarship covers 50% of tuition, and is awarded to students with at least a 3.0 GPA. This scholarship is renewable each semester.
APPLY HERE
The Episcopal Church Educational Scholarships
Scholarships are derived from annual income of designated trust funds established by generous donors through bequests to The Episcopal Church. The listing of trust funds and scholarships includes information related to the intended use of scholarship funds. A number of these scholarships are designated for students enrolled in theological education and training. Others provide modest scholarships for children of missionaries, bishops or clergy, as well as other groups covering a wide range of eligibility. When funds are available, the maximum award is $10,000 per student. A scholarship applicant must be an Episcopalian and must have the endorsement of his or her bishop.
LEARN MORE
Mary-Margaret Kellogg Scholarship
The Association of Episcopal Colleges, the American Chapter of the Colleges and Universities of the Anglican Communion, is pleased to offer a select number of Mary-Margaret Kellogg Scholarships for Episcopal students active in their churches and attending one of the Episcopal Historically Black Colleges and Universities: St. Augustine's in Raleigh, North Carolina and Voorhees College in Denmark, South Carolina. These are $5,000 awards over four years for fees at one of the two colleges, based on successful academic progress.
LEARN MORE
FAQs ABOUT THE CHAPEL & THE EPISCOPAL CHURCH
How did Saint Augustine's Chapel begin?
A worshiping congregation was formed at Saint Augustine's Normal School on February 11, 1868. The congregants met on the school's campus until a building was erected on Dawson and Lane streets in Raleigh, NC. The North Carolina Legislature granted the land at this location for the building of a worship space. Ten members from Christ Church, Raleigh transferred to the new church. Other members included students and faculty who attended the new worship community.
Washington Hayes and the Reverend Henry B. Delany, later Suffragan Bishop of the Diocese of NC, began construction on the current chapel on the property of Saint Augustine's Normal School. The Rev. Delany was the quarry master and masonry instructor at that time. Under his direction, the students quarried the stones for construction, and laid the cornerstone in 1895. The construction was completed in December 1895. A year later, the church located in downtown Raleigh was renamed the Church of Saint Ambrose upon recommendation by Bishop Cheshire and permission of the Diocesan Convention. Finally on October 11, 1897, the chapel was consecrated "Saint Augustine's Chapel" by the Rt. Rev. Joseph Blount Cheshire, Bishop of the Episcopal Diocese of North Carolina.
When did the Episcopal Church Begin?
The Episcopal Church is a province of the worldwide Anglican Communion.When England established colonies in America, Anglican worship was established in the British colonies.Following the Revolutionary War, and the establishment of the United States of America, "three clergy and twenty-four lay delegates met at Chesterton Maryland on November 9, 1780 and resolved that 'the Church formerly known in the Province as the Church of England should now be called the Protestant Episcopal Church.' The word 'Protestant noted that this was a church in the reformation tradition, and the world 'Episcopal' noted a characteristic of catholicity," namely being under the pastoral leadership of bishops.
What makes us Anglican?
The Episcopal Church is part of the Anglican Communion. The word communion means having fellowship, affection, and togetherness with another. We share in relationship with other provinces of the Anglican Church from around the world. There are several attributes which we share with Christians in the Anglican Church that mark us as Anglican.
We are Protestant, yet Catholic: As an Anglican church The Episcopal Church "stand squarely in the Reformed tradition, yet considers itself just as directly descended from the Early Church as the Roman Catholic or Eastern Orthodox churches."
Like all Anglican Churches, the Episcopal Church believes that Christians should be able to worship God and read the Bible in their first language.
The Episcopal Church uses the Book of Common Prayer for Worship. This book is a "collection of worship services that all worshipers in an Anglican church follow.It is called common prayer because we all pray it together, around the world. The first Book of Common Prayer was compiled in English by Thomas Cranmer in the 16th Century."
Faith informed by Scripture, Tradition, and Reason: The Anglican tradition acknowledges that the Holy Scriptures are the Word of God and "completely sufficient to our reconciliation to God, and must always speak to us in our own time and place."As Anglicans we look to two thousand years of tradition which can inform our understanding of scripture. These traditions of the Church connect us with all generations of believers as we seek to interpret scripture. We are also created by God with intelligence and particular experiences which form our God given reason. We use this reason along with the traditions of the church to discern how scripture relates to our own lives….
Why does SAU have Saint Augustine's Chapel as a place of worship for students?
Saint Augustine's University is an institution of importance for The Episcopal Church, and is committed to the spiritual growth and formation of students.The chapel serves as a place of worship on Sunday mornings, and the chapel office coordinates campus religious life. Additionally, Saint Augustine's University is affiliated with two associations which connect the university to The Episcopal Church and the Anglican Communion.These organizations are the Association of Episcopal Colleges (AEC), and Colleges and Universities of the Anglican Communion (CUAC). Click here for more information on CUAC.
What do I need to do to be a baptized Christian?
We welcome individuals who seek baptism. As a sacrament instituted by Jesus Christ, baptism initiates individuals into Christ's Body by water and the Holy Spirit. Baptism occurs during a service of Holy Eucharist at various times of the year. The Episcopal Church baptizes people of all ages, and at Saint Augustine's Chapel we have provisions for baptism by immersion or by pouring water upon the candidate. If you desire to be baptized, contact the university chaplain, The Rev. Hershey Mallette Stephens at 919.516.4241 or by email at hmstephens@st-aug.edu to attend a baptism, get information and preparation session.
Who in The Episcopal Church has spiritual formation resources for individuals?
There are numerous resources for spiritual formation. Students at Saint Augustine's University should investigate the religious life programs in the following ways. There are excellent online resources by the Society of Saint John the Evangelist. You can sign up to receive a daily reflection by email, read sermons, and learn about prayer. You may also view the Daily Office at Forward Movement's online service, or The Chapel. These are simply a few of the online resources for spiritual formation. Please consult the university chaplain, The Rev. Hershey Mallette Stephens for more information.
How can I learn about the history of African Americans in the Episcopal Church?