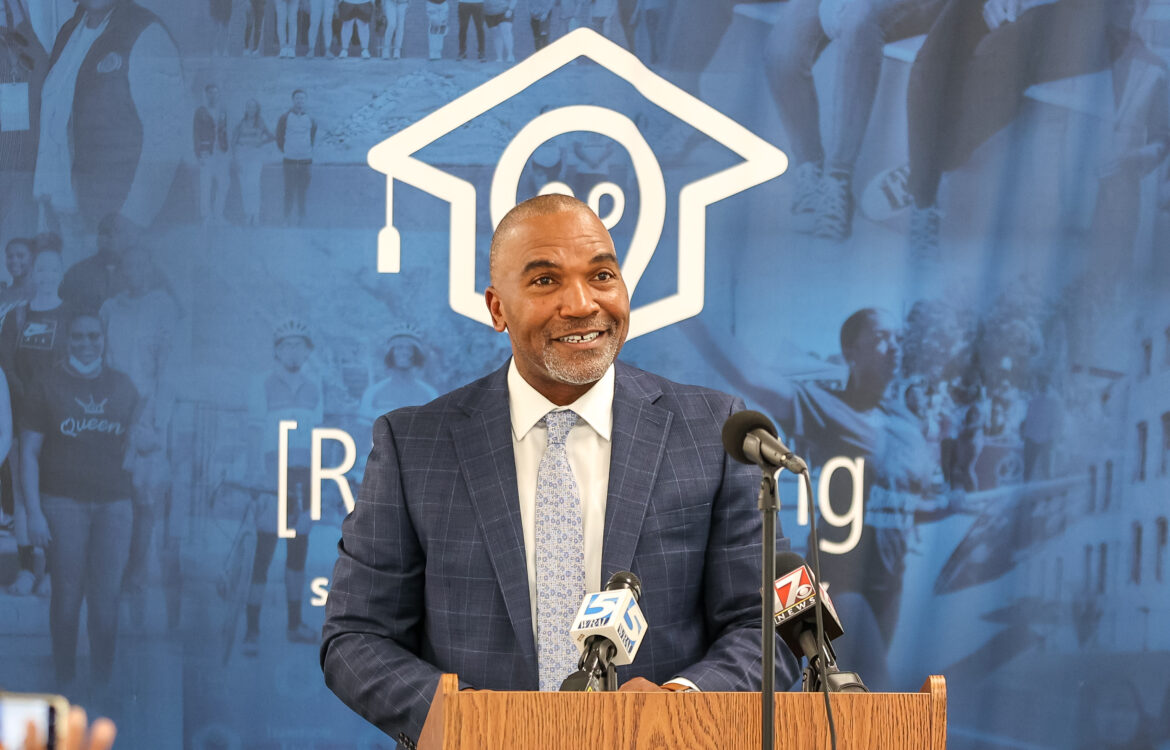 SAU Announces Howard Feggins as Head Football Coach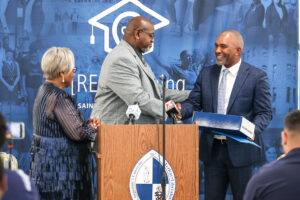 Saint Augustine's University (SAU) landed another former professional athlete familiar with the Triangle as their next football coach.
The SAU Department of Athletics announced Howard A. Feggins as the leader of the Falcons during a special press conference on Thursday, March 23, 2023. Feggins has four decades of football experience as a coach, player, and athletic consultant.
"I am excited to welcome Coach Feggins to SAU," said SAU President Dr. Christine Johnson McPhail. "His experience, leadership, mentorship skills, and football philosophy align well with our university's mission."
A former defensive back at the University of North Carolina and in the NFL with the New York Giants and New England Patriots, Feggins spent last season as the offensive coordinator at Fayetteville State University. With Feggins as offensive coordinator, the Broncos went undefeated in the Central Intercollegiate Athletic Association (CIAA) Southern Division. In addition, they ranked second in total offense en route to their 2022 CIAA football championship. As a result, Feggins was also named the offensive coordinator for the 2023 HBCU Legacy Bowl in New Orleans, LA.
"After a national search for a person who embodied a reimagined university with the history of winning championships, Coach Howard Feggins surfaced as the choice," said SAU Dean of Collegiate Athletics and Exercise Science Dr. Lin Dawson, who also serves as Acting Athletic Director. "The interview committee was diligent in the search for Transformational Leader, and we have found one."
Before the Fayetteville State season, Feggins spent four seasons as an assistant football coach with Colorado State University-Pueblo from 2018-2021. During his first two years as running backs coach, the Thunderwolves won the 2018 Rocky Mountain Athletic Conference (RMAC) championship, where two running backs, Marche Dennard and Bernard McDondle, earned invitations to the 2018 NFL Rookie Minicamp. In addition, his coaching led to Isaiah Diggs making 2019 All RMAC First Team Punt Returner and running back Austin Micci winning the 2019 RMAC Academic Offensive Player of the year. Furthermore, under his tutelage, CSU Pueblo Wide Receiver Dionte Sykes signed a 3-year Contract with Edmonton Elks in the Canadian Football League. Feggins spent his remaining years at CSU Pueblo as Returners Coach, Receivers Coach, and Offense Academic Liaison, resulting in a team GPA of 3.2. His experience also included serving as Community Service Liaison and Race Relations Liaison. In addition, he facilitated multiple zoom meetings on Race Issues in America with NFL Coaches and Youth Coaches.
"I'm excited for the opportunity of the young men and to show them, if they give me all that effort, then we have an opportunity to win," said Coach Feggins. "The President, Dr. McPhail, and the Athletic Director, Dr. Dawson, are very supportive of the growth and direction of the program."
Since 2015, he has owned SACS Sports, LLC, a consulting firm with parents and high school student-athletes to help them gain more exposure. He has also been an evaluation coach with NextGen All American Camp & The Show.
Feggins spent the 2014 season as the head coach at Warren Central High School in Bowling Green, Kentucky. He guided the team to a 6-5 season and a playoff appearance.
Before the season at Warren Central, Feggins had been in the college ranks since 1995. In addition to the coordinator (pass game and offensive) experience since 2004, he earned the NFL Minority Internship. He served as a training camp offensive assistant with the New England Patriots in 2003 and 2008.
A 1987 University of North Carolina graduate, Feggins was a four-year letter winner for the Tar Heels. A cornerback and strong safety, Feggins totaled 169 tackles during his career. As a sophomore, he ranked sixth on the team with 83 tackles. During Feggins' junior year, the Tar Heels posted a 7-4-1 record and played in the Aloha Bowl. He earned his bachelor's degree in education.
Feggins played briefly in the NFL with the New England Patriots and New York Giants. He also spent two seasons with the London Monarchs of the now-defunct World League of American Football.
Feggins and his wife, Renee, have two sons, Kevin and Jensen.